Why Lumenned?
- Top quality brands
- Reliable partner
- Attractive prices
- Stock in Europe
- Fast delivery
- Shipping across Europe
- Ready to do business
Register as customer
Are you a professional and looking for a solid partner for your lighting solutions?
Register now!

Sheenly LED Linear Light, Slimo, 40W, WW, 4000K, 3400LM, 1150x198x18mm, Black frame
Prices only visable for resellers
Sheenly's Ultra Slimo is an all new panel light specially designed for suspended installation. Thanks to its solid structure that Slimo does not sack or bend like normal panel light when suspended.
Slimo is also designed to give direct, indirect light towards the ceiling and the ground, creating a harmonious and mood pleasing lighting experience. Suitable for example offices or shopping areas.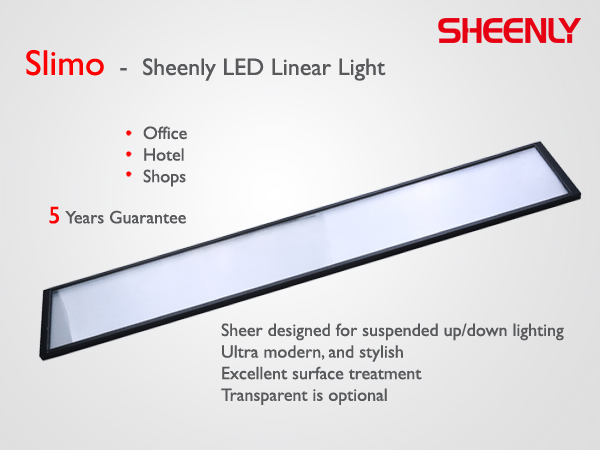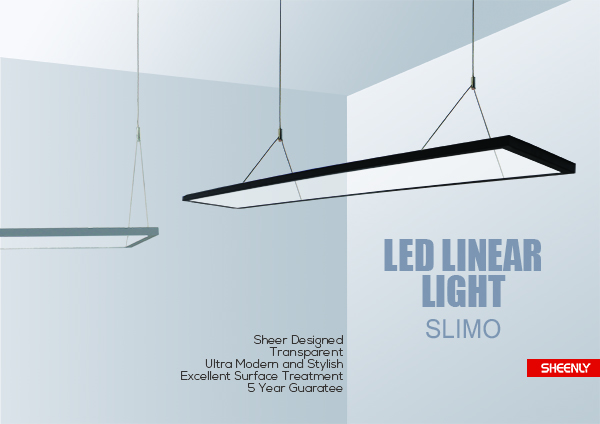 CE version ENEC approval Transparent series Slimo
Features
- Ultra modern, stylish and Innovative design
- Sheer designed for suspended up/down lighting
- Excellent surface treatment
- Transparent
- No UV or IR emissions
- Durable with life span over 50,000 hours
- 5 Years Duarantee
- Simple and convenient installation